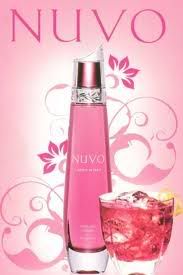 Ok so I had been seeing this Nuvo drink everywhere and I must admit looking at the commercials which featured Lil Wayne at the time made me want it even more, but at that time it was too pricey for me. Im like wow with that price it must be great!!!!Nuvo has also been featured in videos by Keri Hilson, Tank, Flo-rida,Trey Songz and more. It was also featured in Lisa Ray's Reality show on Tvone entitled "Lisa Raye the Real McCoy!!In the show she stated that Nuvo was her favorite and thats all she drunk.Which made me even more curious to go buy!!!
Nuvo is a sparkiling liquor mixed with white wine. It was suppose to market women since it is Pink and use to have for her on the bottle but it was taken off.The bottle is shaped like a huge bottle of perfume which I loved and it also caught my attention. It is said that Nuvo taste like a rasberry ginger ale or a cranberry Sierra mist mixed with Ciroc but I beg to differ. The smallest bottle of Nuvo could cost you around $20 and the biggest bottle could cost you up to $50. Is it worth it??
I honestly do not like Nuvo. It does kinda tast like a cranberry Sierra Mist but it Damn sure don't taste anything like ciroc mixed in. I think it taste like somebody's medicine mixed with a soda!!Not a great taste. A waste of $50 dollars for me. The only excitement it gave me was the fact that it was pink which is my fav color and the bottle was excellent other than that I truly feel I wasted my money. So people before you buy Nuvo make sure you taste it first. If not it could be a waste of your money as well!! In my book Nuvo is no where near hot!!!! But that's just my opinion!!!!!