I must say that twitter is the facebook for the celebs. It seems as though everytime you turn around a celeb is beefing on twitter smh!!!!Apparently Rihanna became a little offended when Ciara guest starred on The Fashion Police show on E! They were giving a critique on Rihanna's Christion Dior couture Gown she wore. When asked by Joan Rivers what Ciara thought of the dress she completly went left field responding about a party that she ran into Rihanna in and Rihanna wasn't a pleasant person. In reply Joan Rivers was like O a B*%ch!!!In reply Ciara just laughed it off. Rihanna got wind of this and retaliated of all places on twitter. She twitted all kinds of things like Ciara is a striper, she thinks shes gangsta. Just alot of lame wack, childish things if you asked me.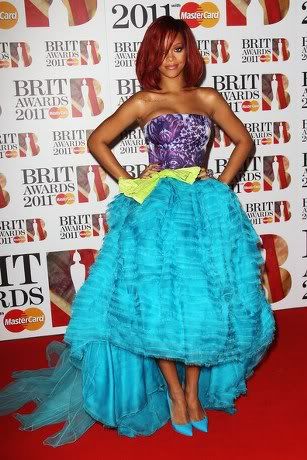 This dress should have been finished with some purple or yellow shoes,but thats just me!!!
Now according to mediatakeout and a few other sites Ciara is said to be one of Labron Jame's jump offs. Now that does make sense since she is La La's bff and aren't Labron and Carmello cool? Anyway Jay Z and Labron threw a party that night that Ciara is referring to. Rihanna was there and a few other celebs as well. Ciara was trying to get into the VIP of the party with Rihanna, Savannah(Labron's Fiance)Jay Z ect. ect. and Rihanna and a few other people dissed Ciara at the entrance and basically didn't let her in the party. Now I would have to agree if some sneaky, freaky things are going down between Cici and Labron and Savannah was there. I could see why Rihanna did what she did at the party. But what I am not understanding is Why take it to twitter Rihanna??Why didn't you just pull Ciara to the side that night and let her know that you didn't think it was right for her to be there. Don't be her friend then diss her the way you did. As if you have never played the role of jump off in your day! That was really messed up. I honestly don't think Ciara said what she said on E! in a bad way. She was mainly stating that you were not a friendly person and she is not the only person in the world who has said this. She didn't call you the B*%ch Joan Rivers did so why just address Ciara. Another thing that really had me on this was you calling her a stripper. How is she a stripper? Because she can dance? So what were you doing on your "What's my name Dance routine? You know the one you seem to perform at every award show. The one when your gyrating on Drake as if you were a stripper giving a private lap dance. Or maybe when you were doing the little Beyonce vajay jay gyrate like a stripper. Lets not forget the random lingerie/ nude pic's of you hitting the web. So let's not throw stones while living in a glass house.
I would think that all that Rihanna has been through she would be a better person and not so petty. I mean Ciara really didn't say it in a bad way!!!I don't see a really nice person in Rihanna. Just something about her that I don't like. I never really cared for Ciara either but she is a much more humble person. She's also from the A and I stand up for the A sorry!!!!! I will post the clip of the Fashion Police Show so you can decide!!!!