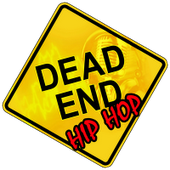 I have been given a great opportunity to blog a new hip hop website every week entitled "Dead End Hip Hop".It is a webisode that discusses hip hop, and not just our generation of hip hop but every generation of hip hop.Dead End Hip Hop.com was Created by Kennith Inge, and the core guys consist of B,Ken,Roderic and Ralph aka Feefo. They will be giving us coverage of the Atlanta's hip hop scenes. As well as conversations with different artist and producers in the game of hip hop.
The first webisode entitled "Dead End Hip Hop Conversations with 9th Wonder" aired Feb 2, 2011. In this webisode they had an interview with 9th Wonder and discussed all time greatest producers. 9th Wonder is indeed one of the greatest producers to me. He has produced for so many people including Drake, Jayz, Nas,Destiny's Child and many more. In the interview 9th Wonder discussed His music, Up and coming projects and what keeps him in the game. I think that was the part that I loved. When asked what keeps him on top and in the game he said his love for music and not his love for fame. That is the realest answer I have ever heard and I loved it. He's absolutly right. What is the point of being famous if you don't love what you are doing? Later in the webisode Kinge, Fefo, and B discussed the best producers.The main big thing was who is the best producer who came out of VA, Timbaland or Pharell? Well my answer is Timbaland sorry guys lol!!!I just love Timbaland. He produces great music. Just something about him. I loved what he did with Justin Timberlake, Keri Hison,and Brandy recently. I am not sayin Pharell is not as great because he is. Just if I had to choose it would be Timbaland.
I didn't want to give away to much of the show but it is a great show and a great concept and I love it!!!Big up to all of you guys and Im sure you guys will be the next Tom or Mark Zukerburg of Hip Hip lol. All of you must check out deadendhiphop.com every tuesday at 4pm. If you missed the show on tuesday I will post it for you guys!!!!